Warning
: getimagesize(): corrupt JPEG data: 428 extraneous bytes before marker in
/home1/stfranci/public_html/plugins/content/simplepictureslideshow/simplepictureslideshow.php
on line
260
Warning
: getimagesize(): corrupt JPEG data: 98 extraneous bytes before marker in
/home1/stfranci/public_html/plugins/content/simplepictureslideshow/simplepictureslideshow.php
on line
260
Warning
: getimagesize(): corrupt JPEG data: 717 extraneous bytes before marker in
/home1/stfranci/public_html/plugins/content/simplepictureslideshow/simplepictureslideshow.php
on line
260
Warning
: getimagesize(): corrupt JPEG data: 184 extraneous bytes before marker in
/home1/stfranci/public_html/plugins/content/simplepictureslideshow/simplepictureslideshow.php
on line
260
Warning
: getimagesize(): corrupt JPEG data: 11 extraneous bytes before marker in
/home1/stfranci/public_html/plugins/content/simplepictureslideshow/simplepictureslideshow.php
on line
260
Warning
: getimagesize(): corrupt JPEG data: 20 extraneous bytes before marker in
/home1/stfranci/public_html/plugins/content/simplepictureslideshow/simplepictureslideshow.php
on line
260
Warning
: getimagesize(): corrupt JPEG data: 170 extraneous bytes before marker in
/home1/stfranci/public_html/plugins/content/simplepictureslideshow/simplepictureslideshow.php
on line
260
Warning
: getimagesize(): corrupt JPEG data: 460 extraneous bytes before marker in
/home1/stfranci/public_html/plugins/content/simplepictureslideshow/simplepictureslideshow.php
on line
260
Warning
: getimagesize(): corrupt JPEG data: 366 extraneous bytes before marker in
/home1/stfranci/public_html/plugins/content/simplepictureslideshow/simplepictureslideshow.php
on line
260
Warning
: getimagesize(): corrupt JPEG data: 328 extraneous bytes before marker in
/home1/stfranci/public_html/plugins/content/simplepictureslideshow/simplepictureslideshow.php
on line
260
Warning
: getimagesize(): corrupt JPEG data: 105 extraneous bytes before marker in
/home1/stfranci/public_html/plugins/content/simplepictureslideshow/simplepictureslideshow.php
on line
260
Warning
: getimagesize(): corrupt JPEG data: 960 extraneous bytes before marker in
/home1/stfranci/public_html/plugins/content/simplepictureslideshow/simplepictureslideshow.php
on line
260
Warning
: getimagesize(): corrupt JPEG data: 163 extraneous bytes before marker in
/home1/stfranci/public_html/plugins/content/simplepictureslideshow/simplepictureslideshow.php
on line
260
Warning
: getimagesize(): corrupt JPEG data: 470 extraneous bytes before marker in
/home1/stfranci/public_html/plugins/content/simplepictureslideshow/simplepictureslideshow.php
on line
260
Warning
: getimagesize(): corrupt JPEG data: 34 extraneous bytes before marker in
/home1/stfranci/public_html/plugins/content/simplepictureslideshow/simplepictureslideshow.php
on line
260
Warning
: getimagesize(): corrupt JPEG data: 52 extraneous bytes before marker in
/home1/stfranci/public_html/plugins/content/simplepictureslideshow/simplepictureslideshow.php
on line
260
Warning
: getimagesize(): corrupt JPEG data: 4 extraneous bytes before marker in
/home1/stfranci/public_html/plugins/content/simplepictureslideshow/simplepictureslideshow.php
on line
260
Warning
: getimagesize(): corrupt JPEG data: 271 extraneous bytes before marker in
/home1/stfranci/public_html/plugins/content/simplepictureslideshow/simplepictureslideshow.php
on line
260
Warning
: getimagesize(): corrupt JPEG data: 223 extraneous bytes before marker in
/home1/stfranci/public_html/plugins/content/simplepictureslideshow/simplepictureslideshow.php
on line
260
Warning
: getimagesize(): corrupt JPEG data: 561 extraneous bytes before marker in
/home1/stfranci/public_html/plugins/content/simplepictureslideshow/simplepictureslideshow.php
on line
260
Warning
: getimagesize(): corrupt JPEG data: 427 extraneous bytes before marker in
/home1/stfranci/public_html/plugins/content/simplepictureslideshow/simplepictureslideshow.php
on line
260
Warning
: getimagesize(): corrupt JPEG data: 179 extraneous bytes before marker in
/home1/stfranci/public_html/plugins/content/simplepictureslideshow/simplepictureslideshow.php
on line
260
Warning
: getimagesize(): corrupt JPEG data: 123 extraneous bytes before marker in
/home1/stfranci/public_html/plugins/content/simplepictureslideshow/simplepictureslideshow.php
on line
260
Warning
: getimagesize(): corrupt JPEG data: 493 extraneous bytes before marker in
/home1/stfranci/public_html/plugins/content/simplepictureslideshow/simplepictureslideshow.php
on line
260
Warning
: getimagesize(): corrupt JPEG data: 218 extraneous bytes before marker in
/home1/stfranci/public_html/plugins/content/simplepictureslideshow/simplepictureslideshow.php
on line
260
Warning
: getimagesize(): corrupt JPEG data: 45 extraneous bytes before marker in
/home1/stfranci/public_html/plugins/content/simplepictureslideshow/simplepictureslideshow.php
on line
260
Warning
: getimagesize(): corrupt JPEG data: 596 extraneous bytes before marker in
/home1/stfranci/public_html/plugins/content/simplepictureslideshow/simplepictureslideshow.php
on line
260
Warning
: getimagesize(): corrupt JPEG data: 8 extraneous bytes before marker in
/home1/stfranci/public_html/plugins/content/simplepictureslideshow/simplepictureslideshow.php
on line
260
Warning
: getimagesize(): corrupt JPEG data: 313 extraneous bytes before marker in
/home1/stfranci/public_html/plugins/content/simplepictureslideshow/simplepictureslideshow.php
on line
260
Warning
: getimagesize(): corrupt JPEG data: 511 extraneous bytes before marker in
/home1/stfranci/public_html/plugins/content/simplepictureslideshow/simplepictureslideshow.php
on line
260
Warning
: getimagesize(): corrupt JPEG data: 70 extraneous bytes before marker in
/home1/stfranci/public_html/plugins/content/simplepictureslideshow/simplepictureslideshow.php
on line
260
Warning
: getimagesize(): corrupt JPEG data: 108 extraneous bytes before marker in
/home1/stfranci/public_html/plugins/content/simplepictureslideshow/simplepictureslideshow.php
on line
260
Warning
: getimagesize(): corrupt JPEG data: 388 extraneous bytes before marker in
/home1/stfranci/public_html/plugins/content/simplepictureslideshow/simplepictureslideshow.php
on line
260
Warning
: getimagesize(): corrupt JPEG data: 13 extraneous bytes before marker in
/home1/stfranci/public_html/plugins/content/simplepictureslideshow/simplepictureslideshow.php
on line
260
Warning
: getimagesize(): corrupt JPEG data: 14 extraneous bytes before marker in
/home1/stfranci/public_html/plugins/content/simplepictureslideshow/simplepictureslideshow.php
on line
260
Warning
: getimagesize(): corrupt JPEG data: 239 extraneous bytes before marker in
/home1/stfranci/public_html/plugins/content/simplepictureslideshow/simplepictureslideshow.php
on line
260
Warning
: getimagesize(): corrupt JPEG data: 18 extraneous bytes before marker in
/home1/stfranci/public_html/plugins/content/simplepictureslideshow/simplepictureslideshow.php
on line
260
Warning
: getimagesize(): corrupt JPEG data: 2 extraneous bytes before marker in
/home1/stfranci/public_html/plugins/content/simplepictureslideshow/simplepictureslideshow.php
on line
260
Warning
: getimagesize(): corrupt JPEG data: 226 extraneous bytes before marker in
/home1/stfranci/public_html/plugins/content/simplepictureslideshow/simplepictureslideshow.php
on line
260
Warning
: getimagesize(): corrupt JPEG data: 217 extraneous bytes before marker in
/home1/stfranci/public_html/plugins/content/simplepictureslideshow/simplepictureslideshow.php
on line
260
Warning
: getimagesize(): corrupt JPEG data: 312 extraneous bytes before marker in
/home1/stfranci/public_html/plugins/content/simplepictureslideshow/simplepictureslideshow.php
on line
260
Warning
: getimagesize(): corrupt JPEG data: 271 extraneous bytes before marker in
/home1/stfranci/public_html/plugins/content/simplepictureslideshow/simplepictureslideshow.php
on line
260
Warning
: getimagesize(): corrupt JPEG data: 289 extraneous bytes before marker in
/home1/stfranci/public_html/plugins/content/simplepictureslideshow/simplepictureslideshow.php
on line
260
Warning
: getimagesize(): corrupt JPEG data: 598 extraneous bytes before marker in
/home1/stfranci/public_html/plugins/content/simplepictureslideshow/simplepictureslideshow.php
on line
260
Warning
: getimagesize(): corrupt JPEG data: 646 extraneous bytes before marker in
/home1/stfranci/public_html/plugins/content/simplepictureslideshow/simplepictureslideshow.php
on line
260
Warning
: getimagesize(): corrupt JPEG data: 617 extraneous bytes before marker in
/home1/stfranci/public_html/plugins/content/simplepictureslideshow/simplepictureslideshow.php
on line
260
Warning
: getimagesize(): corrupt JPEG data: 136 extraneous bytes before marker in
/home1/stfranci/public_html/plugins/content/simplepictureslideshow/simplepictureslideshow.php
on line
260
Warning
: getimagesize(): corrupt JPEG data: 856 extraneous bytes before marker in
/home1/stfranci/public_html/plugins/content/simplepictureslideshow/simplepictureslideshow.php
on line
260
Warning
: getimagesize(): corrupt JPEG data: 1507 extraneous bytes before marker in
/home1/stfranci/public_html/plugins/content/simplepictureslideshow/simplepictureslideshow.php
on line
260
Warning
: getimagesize(): corrupt JPEG data: 261 extraneous bytes before marker in
/home1/stfranci/public_html/plugins/content/simplepictureslideshow/simplepictureslideshow.php
on line
260
Warning
: getimagesize(): corrupt JPEG data: 716 extraneous bytes before marker in
/home1/stfranci/public_html/plugins/content/simplepictureslideshow/simplepictureslideshow.php
on line
260
Warning
: getimagesize(): corrupt JPEG data: 2 extraneous bytes before marker in
/home1/stfranci/public_html/plugins/content/simplepictureslideshow/simplepictureslideshow.php
on line
260
Warning
: getimagesize(): corrupt JPEG data: 136 extraneous bytes before marker in
/home1/stfranci/public_html/plugins/content/simplepictureslideshow/simplepictureslideshow.php
on line
260
Warning
: getimagesize(): corrupt JPEG data: 719 extraneous bytes before marker in
/home1/stfranci/public_html/plugins/content/simplepictureslideshow/simplepictureslideshow.php
on line
260
Warning
: getimagesize(): corrupt JPEG data: 467 extraneous bytes before marker in
/home1/stfranci/public_html/plugins/content/simplepictureslideshow/simplepictureslideshow.php
on line
260
Warning
: getimagesize(): corrupt JPEG data: 69 extraneous bytes before marker in
/home1/stfranci/public_html/plugins/content/simplepictureslideshow/simplepictureslideshow.php
on line
260
Warning
: getimagesize(): corrupt JPEG data: 74 extraneous bytes before marker in
/home1/stfranci/public_html/plugins/content/simplepictureslideshow/simplepictureslideshow.php
on line
260
Warning
: getimagesize(): corrupt JPEG data: 312 extraneous bytes before marker in
/home1/stfranci/public_html/plugins/content/simplepictureslideshow/simplepictureslideshow.php
on line
260
Warning
: getimagesize(): corrupt JPEG data: 116 extraneous bytes before marker in
/home1/stfranci/public_html/plugins/content/simplepictureslideshow/simplepictureslideshow.php
on line
260
Warning
: getimagesize(): corrupt JPEG data: 31 extraneous bytes before marker in
/home1/stfranci/public_html/plugins/content/simplepictureslideshow/simplepictureslideshow.php
on line
260
Warning
: getimagesize(): corrupt JPEG data: 61 extraneous bytes before marker in
/home1/stfranci/public_html/plugins/content/simplepictureslideshow/simplepictureslideshow.php
on line
260
Warning
: getimagesize(): corrupt JPEG data: 285 extraneous bytes before marker in
/home1/stfranci/public_html/plugins/content/simplepictureslideshow/simplepictureslideshow.php
on line
260
Warning
: getimagesize(): corrupt JPEG data: 4 extraneous bytes before marker in
/home1/stfranci/public_html/plugins/content/simplepictureslideshow/simplepictureslideshow.php
on line
260
Warning
: getimagesize(): corrupt JPEG data: 84 extraneous bytes before marker in
/home1/stfranci/public_html/plugins/content/simplepictureslideshow/simplepictureslideshow.php
on line
260
Warning
: getimagesize(): corrupt JPEG data: 576 extraneous bytes before marker in
/home1/stfranci/public_html/plugins/content/simplepictureslideshow/simplepictureslideshow.php
on line
260
Warning
: getimagesize(): corrupt JPEG data: 258 extraneous bytes before marker in
/home1/stfranci/public_html/plugins/content/simplepictureslideshow/simplepictureslideshow.php
on line
260
Warning
: getimagesize(): corrupt JPEG data: 673 extraneous bytes before marker in
/home1/stfranci/public_html/plugins/content/simplepictureslideshow/simplepictureslideshow.php
on line
260
Warning
: getimagesize(): corrupt JPEG data: 312 extraneous bytes before marker in
/home1/stfranci/public_html/plugins/content/simplepictureslideshow/simplepictureslideshow.php
on line
260
Warning
: getimagesize(): corrupt JPEG data: 86 extraneous bytes before marker in
/home1/stfranci/public_html/plugins/content/simplepictureslideshow/simplepictureslideshow.php
on line
260
ALTAR SOCIETY

If you would like to become a member of the Altar Society or for more information call: Juanita Miramontes, 972-291-8555. I look forward to talking with you.
---
What We Are About
The Altar Society of St. Francis of Assisi is a group of women from the Parish who offer their dedicated service to the Church. We are involved in the life of the Church in a special way. Through our efforts, we assist the Pastor in maintaining the Altar, Sanctuary and Sacristy. This includes cleaning and setting of the Altar for Services, caring for the vestments, Altar cloths, etc. We also decorate the alter every week and for special occasions; we care for the plants and flowers. In addition, we are called upon throughout the year to help with special activities.
What We Offer
Foster harmony and friendshps among its members and assist the Pastor in the needs of St. Francis Parish.
Funraisers
Through our fundraisers we are able to purchase some of the needed articles for the church.
Our basic fundraisers are:
We have our Christmas Bazaar in November. This is our one and only fundraiser each year. The Altar Society ladies bake cakes, cookies, pies, etc. and also processed items such as jams, jellies and breads. We have a silent auction, in addition to a raffle. The ladies donate items for the aution and raffle as well as help the day of the bazaar.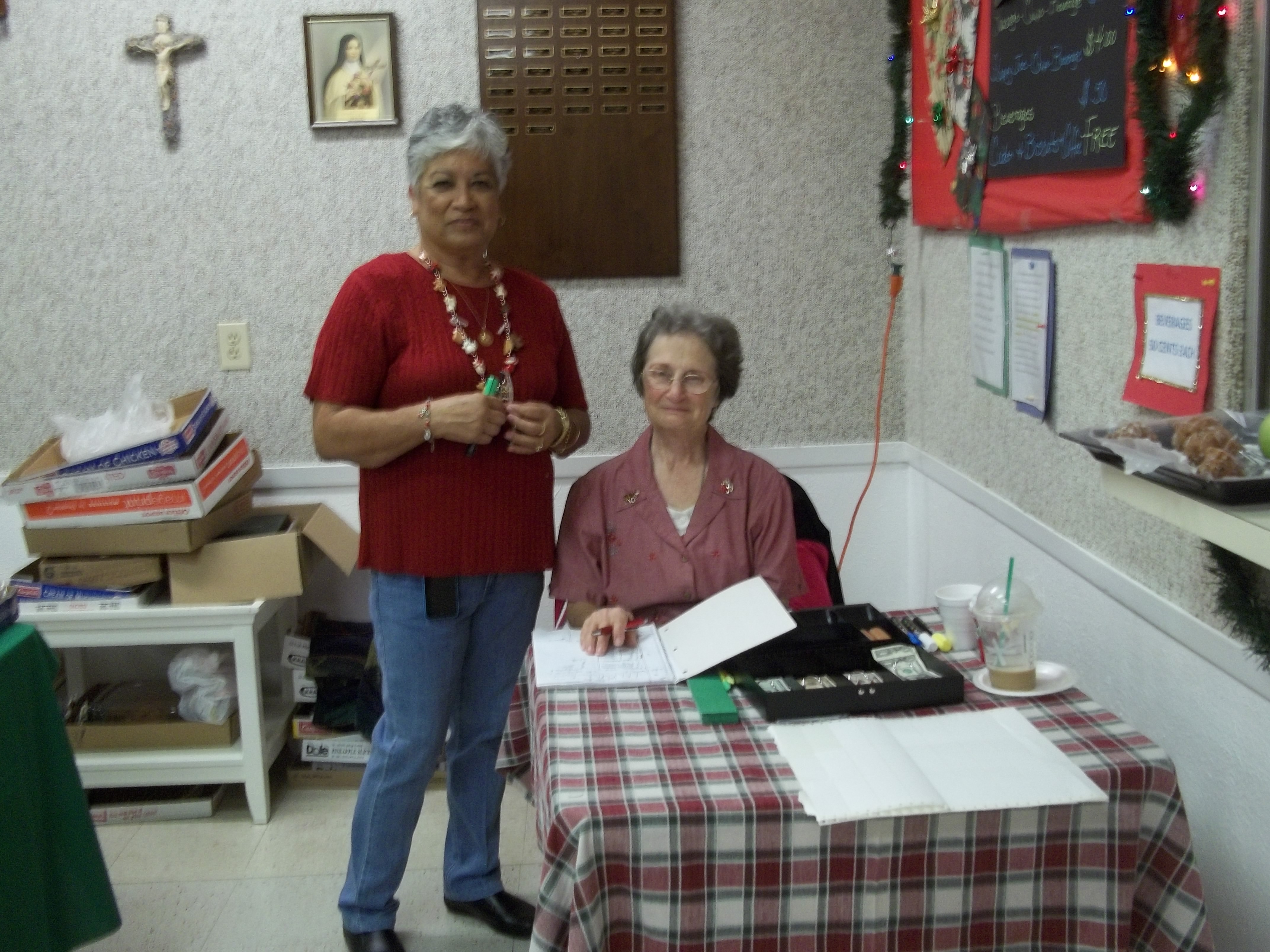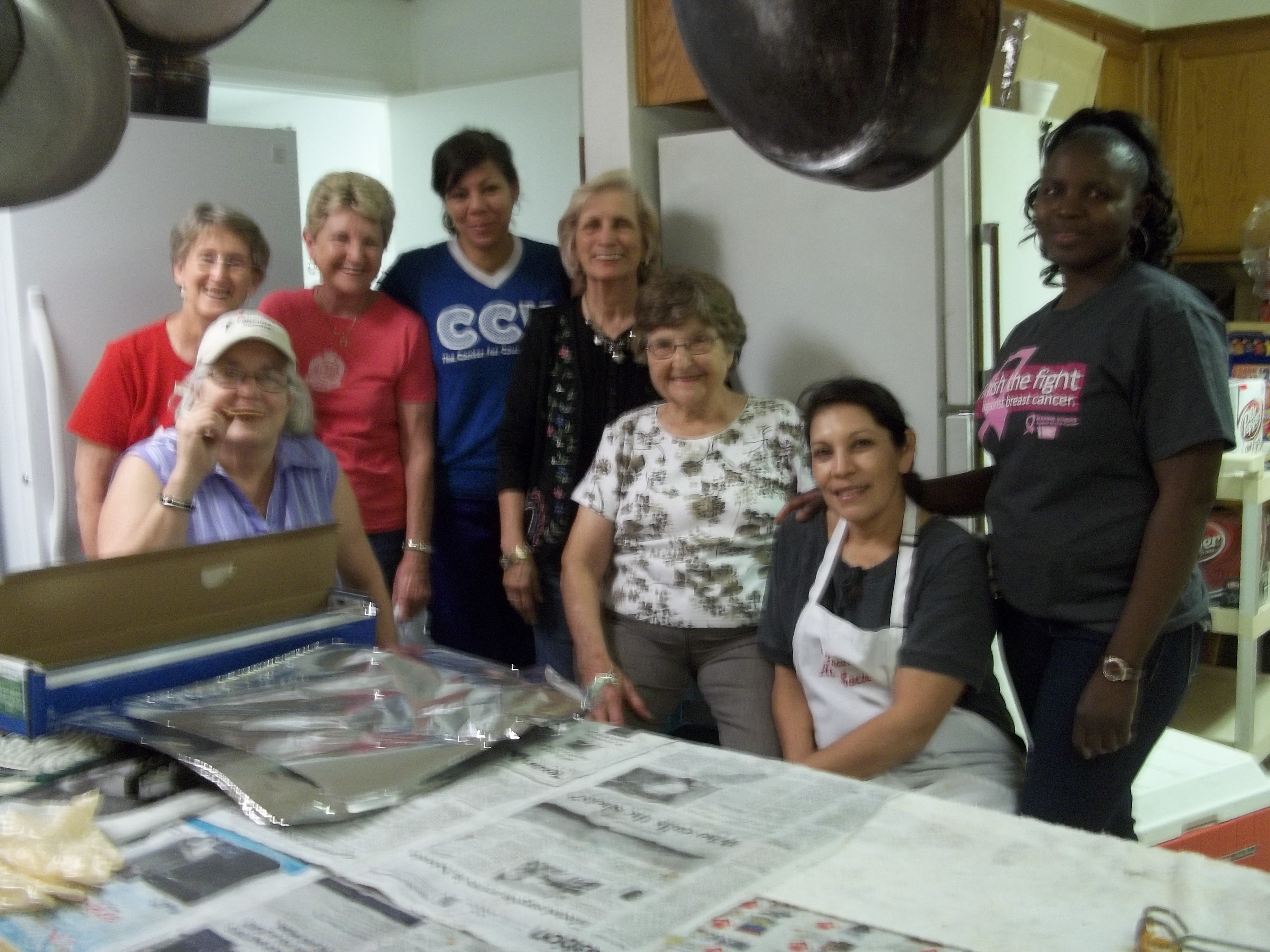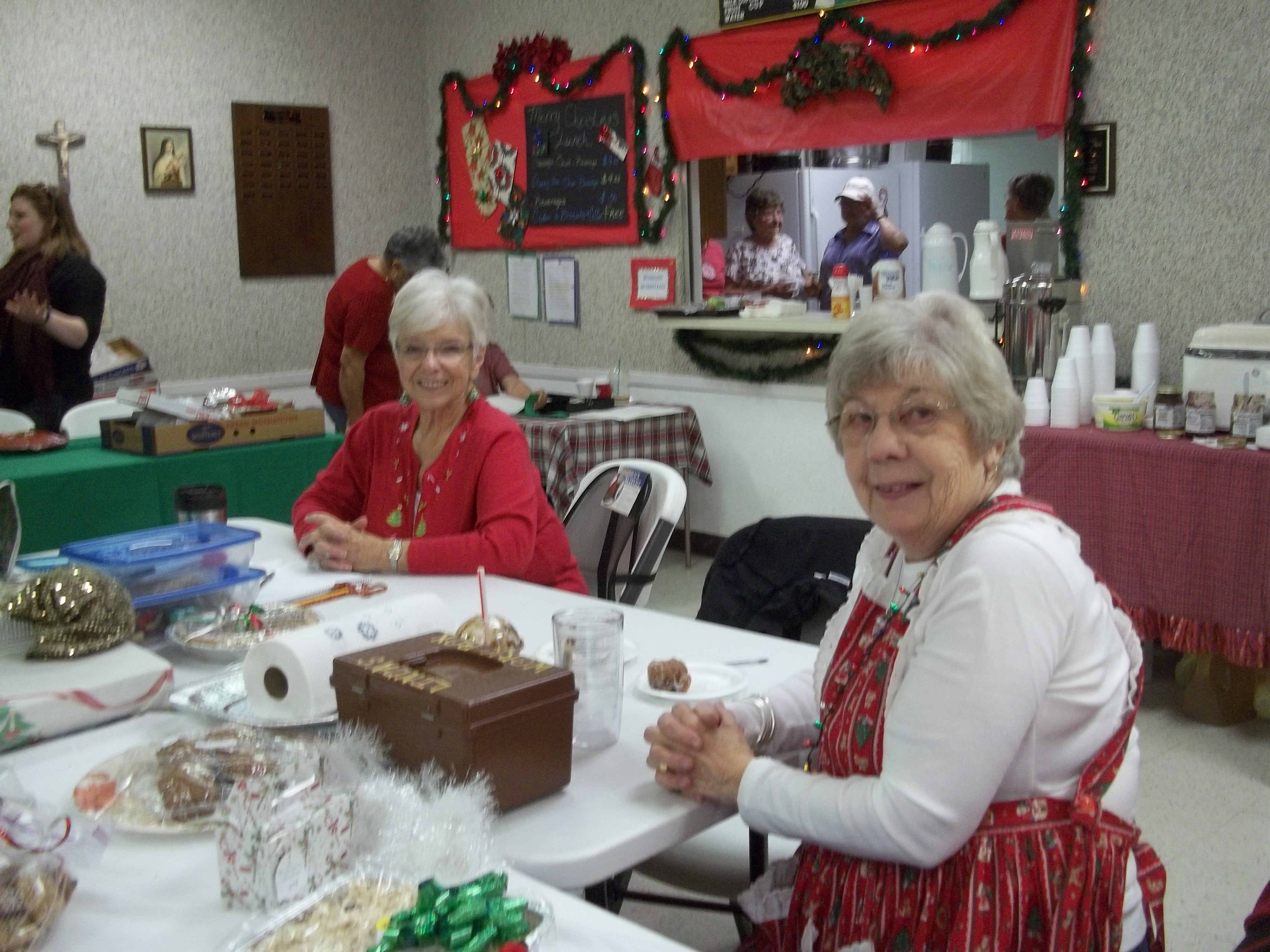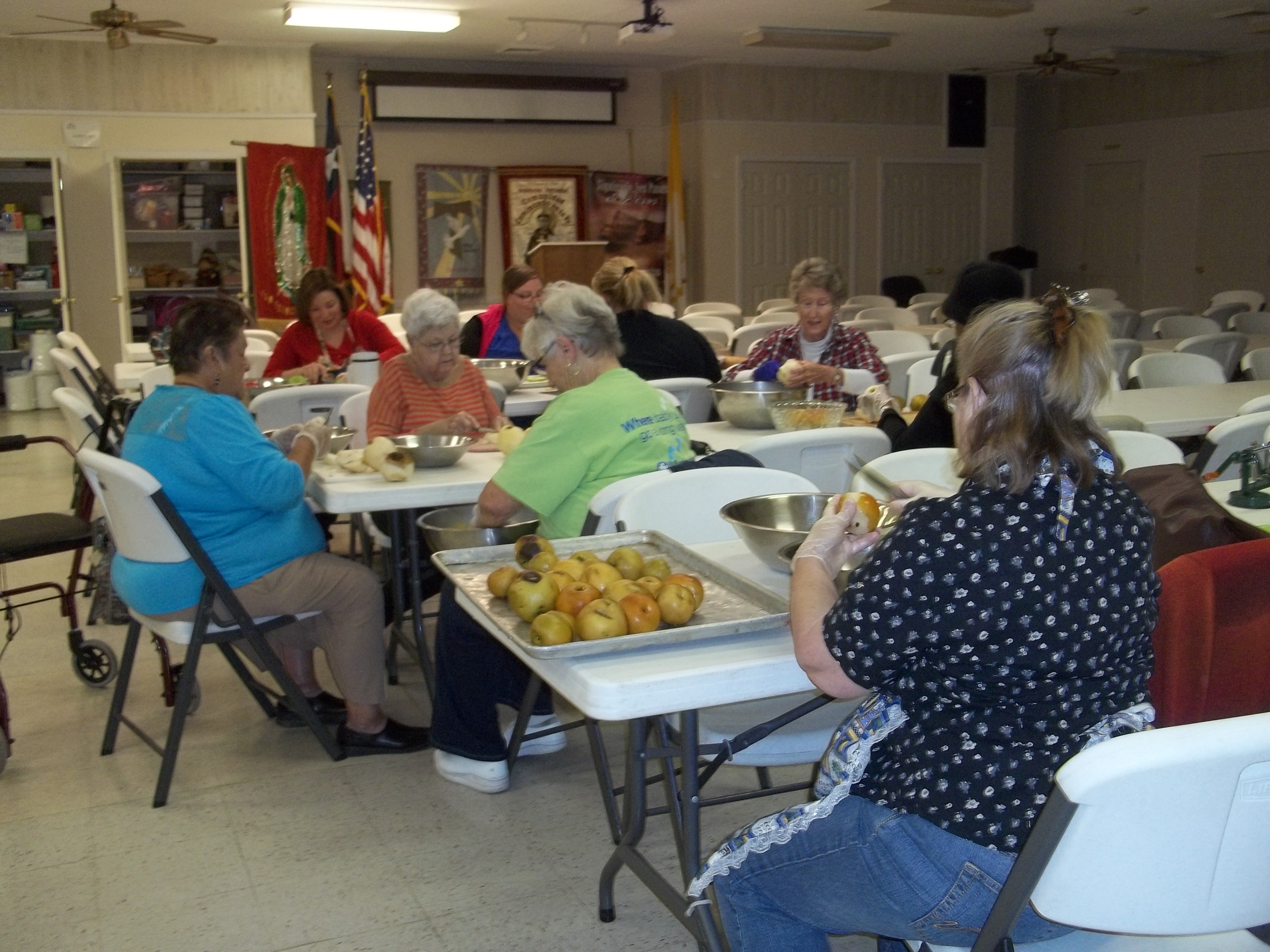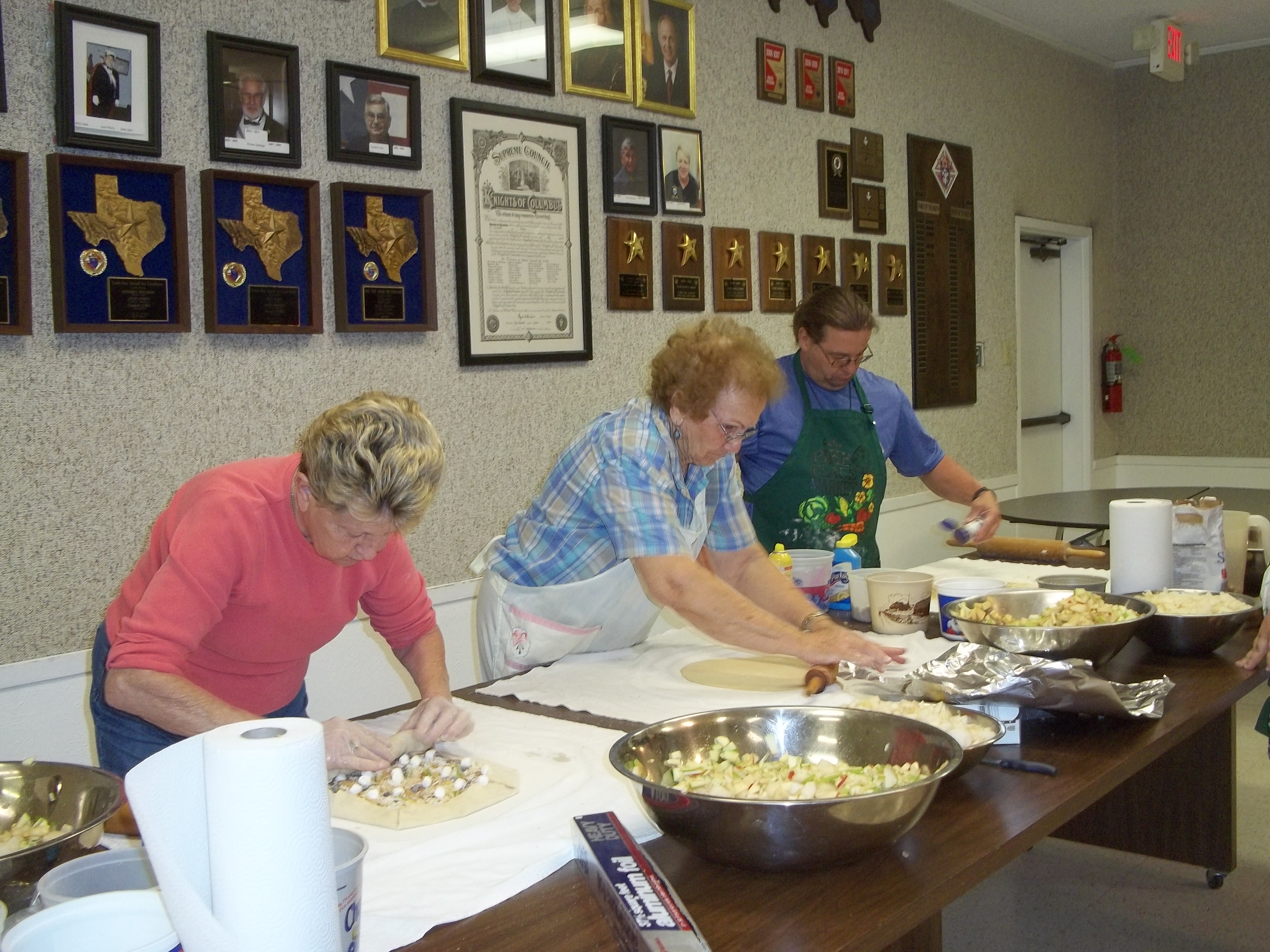 Projects and Activities
We participate in the Annual Fall Festival by paticipating in the Cake Walk booth by supplying cakes and our time. Also, a new booth added last year call This 'N That which offers a variety of items of brick and brack, knick knacks, books, small household items and more.
Membership Requirements and Dues
Members must be 18 years and older. Dues is $5 per year for each member. Members get to enjoy our special events such as our Christmas dinner and Sweetheart Banquet.
Meetings are every month on the third (3rd) Thursday at 7:00 P.M. in St. Claire's Hall.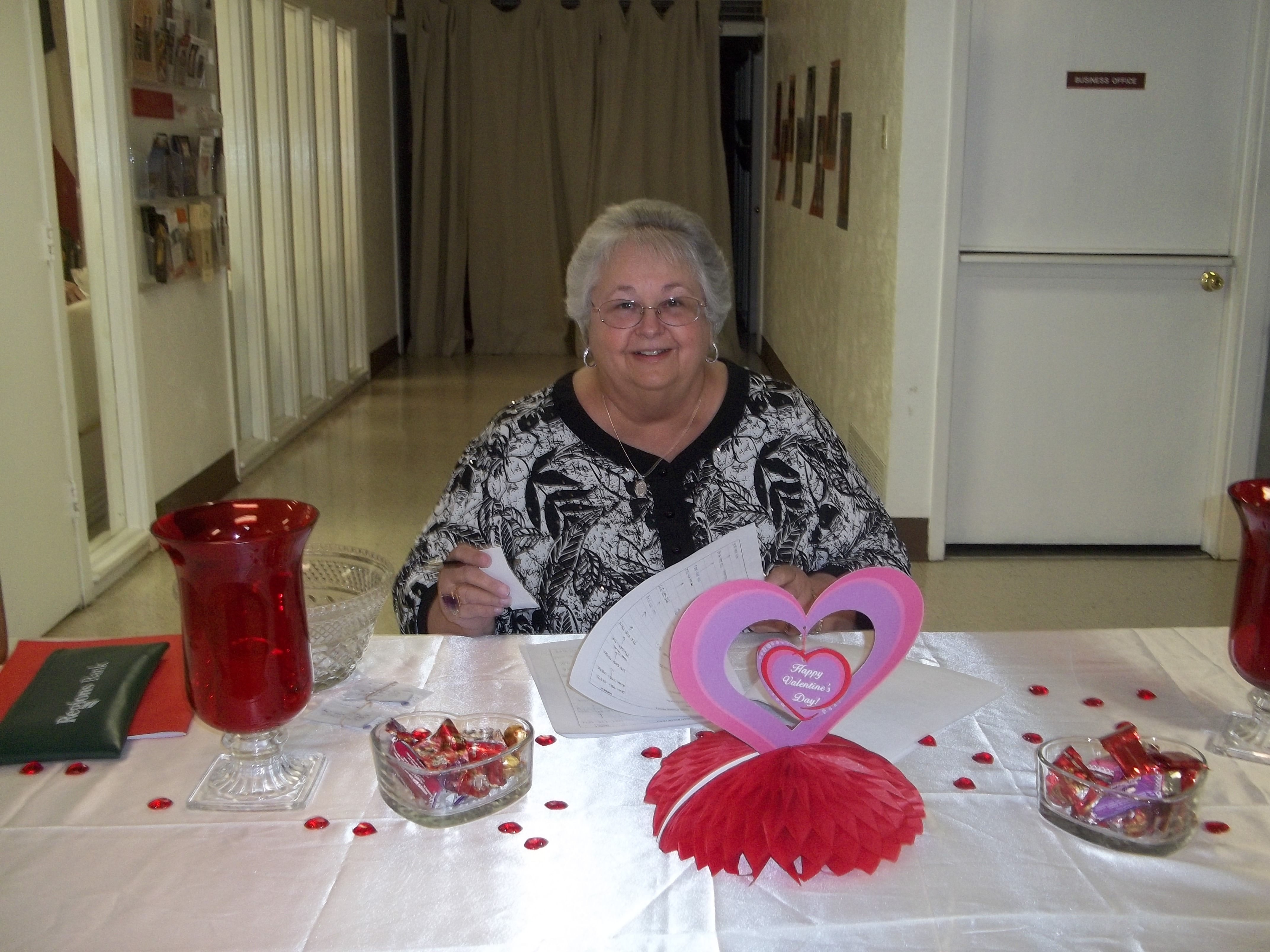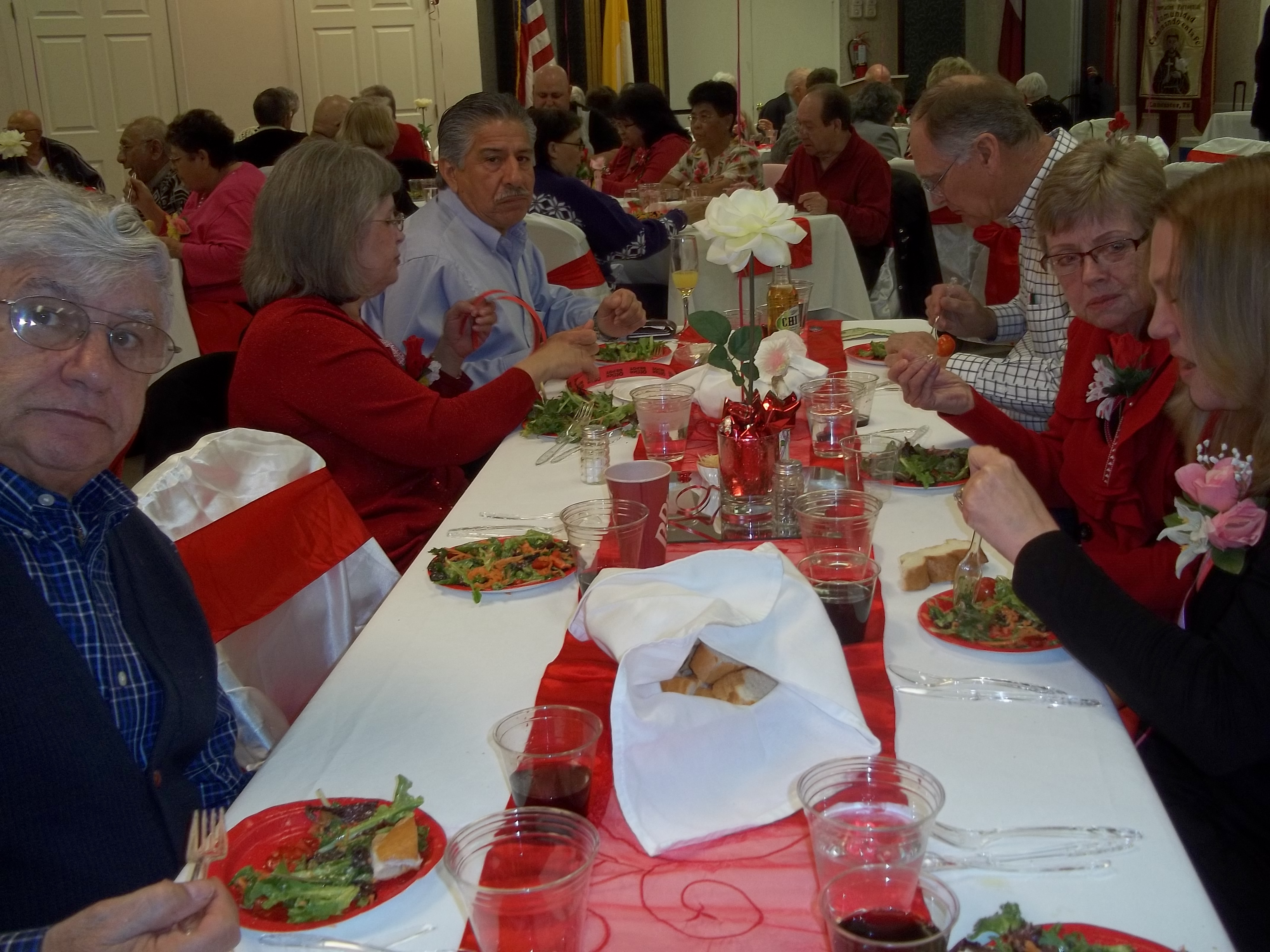 2016 Officers
President - Juanita Miramontes
Vice-President - Ruby Dickson
Secretary - Amanda Schmitz
Treasurer - Dolores Campos
---
Annual Christmas Bazaar
Its that time again!! For the Altar Society's only fund raiser. Raffle tickets will be sold in the Narthex after each Mass on weekends thru Nov 15th. In order for us to continue our commitments to the Parish, namely, to have a luncheon for families of our Parishioners who have lost a loved one, provide flowers on the Altar each weekend, also to provide for garments and linens for use on the Altar, we ask the entire Parish to support our Bazaar.
The date this year is Nov. 21st from 9 am to 7 pm.
The raffle prizes this year are:
1st Prize — St. Francis statue
2nd Prize — Needlework Wall Hanging
3rd Prize — Nativity Set
4th Prize — Harvest Center Piece
5th Prize — Wine & Cheese Basket
6th Prize — SURPRISE!!
Besides the Raffle we will of course have our homemade tamales, homemade strudel, and our Bake Sale is known as the best one around. The Silent Auction is a great place to find that ' just right ' gift to complete your Christmas list.
Please join us for a day of fun and knowing you are, at the same time, helping our Parish. For more
info call Joan at 972-227-2682.